Les Genets
85160 St-Jean-de-Monts / Pays de la Loire
In the heart of the Vendée coast
Presentation
Discover the Region
Practical information
Give yourself a treat and recharge your batteries with a 100% relaxing holiday in Vendée on the Atlantic Ocean at the 5-star Les Genets campsite in Saint-Jean-de-Monts.
A unique spot in Vendée
At the heart of the Saint-Jean-de-Monts forest, the Village Club welcomes guests in a 7-hectare forest, just a step or two away from the sandy beach of Les Marines. And in a very original Far West atmosphere! You can choose between comfy cottages, Far West lodges or wooden huts known as Cabadiennes. The rental accommodation is practical, and some rentals have patios so you can make the most of the big pine forest. There are separated pitches for caravans, tents and camping cars in the campsite.
A fun, tonic, wellness stay
Guests have access to not one but two water parks. There is also a 1,500 m2 area with a Lego brick theme. With two thrilling 10 m-high water slides and a system of targets and music, this really is a unique area. The second water park features a heated outdoor pool with water slides. A heated indoor pool with a jacuzzi is also availble with a countercurrent river and whirlpool bath. A water park area is reserved for children.
For an energy-packed holiday, you have come to the right place. Start the day with a jog or a mountain-bike ride, then follow up with a fitness session. Leisure activities, games and sports on the multi-sport pitch are on offer, as well as orientation courses and hiking. For something more peaceful, try a spot of diving in the pool.
Our younger guests receive a warm welcome at the Kids Club for fun and entertaining activities. After manual workshops and treasure hunts, they will rehearse their show before heading for the play area or the Saloon, a room specially designed for children in a Far West setting.
Round up the troops for dinner at the bar-restaurant, while watching our special evening shows, then enjoy the dance nights, concerts, karaokes and themed meals.
A spectacular setting
Set off on an expedition to the Île d'Yeu and see some sublime landscapes. Treat yourself to a trip in a canoe and get to know the fauna and flora in the Sallertaine marshes. Children will be delighted by a ride in a horse-drawn carriage in Vendée or a visit to the Pommettes farm.
We appreciate
The fun water park made of Lego bricks
The 7-hectare pine forest
The cottages and lodges
The beach nearby
Cycling trail leaving from the campsite
With a starting point like the campsite Les Genêts in St Jean de Monts you can go everywhere in Vendée.
For a kind stay in Vendée, let's get seduced by local gastronomy, strolls, the amazing sea and its huge beach…Saint-Jean-deMonts is one of the most famous seaside resort. Swamps attract lot of tourists every year. Next to Saint-Jean-de-Monts, Saint Hilaire de Riez is know as City of Swamps with more than 1 500 ha of swamps. Le cordon des Mattes, former dune, is in the middle of 2 swamps : La Besse and le Ligneron. You can also find there local swamp wildlife such as egret, a bird specie or salicorne, typical salt pan plant.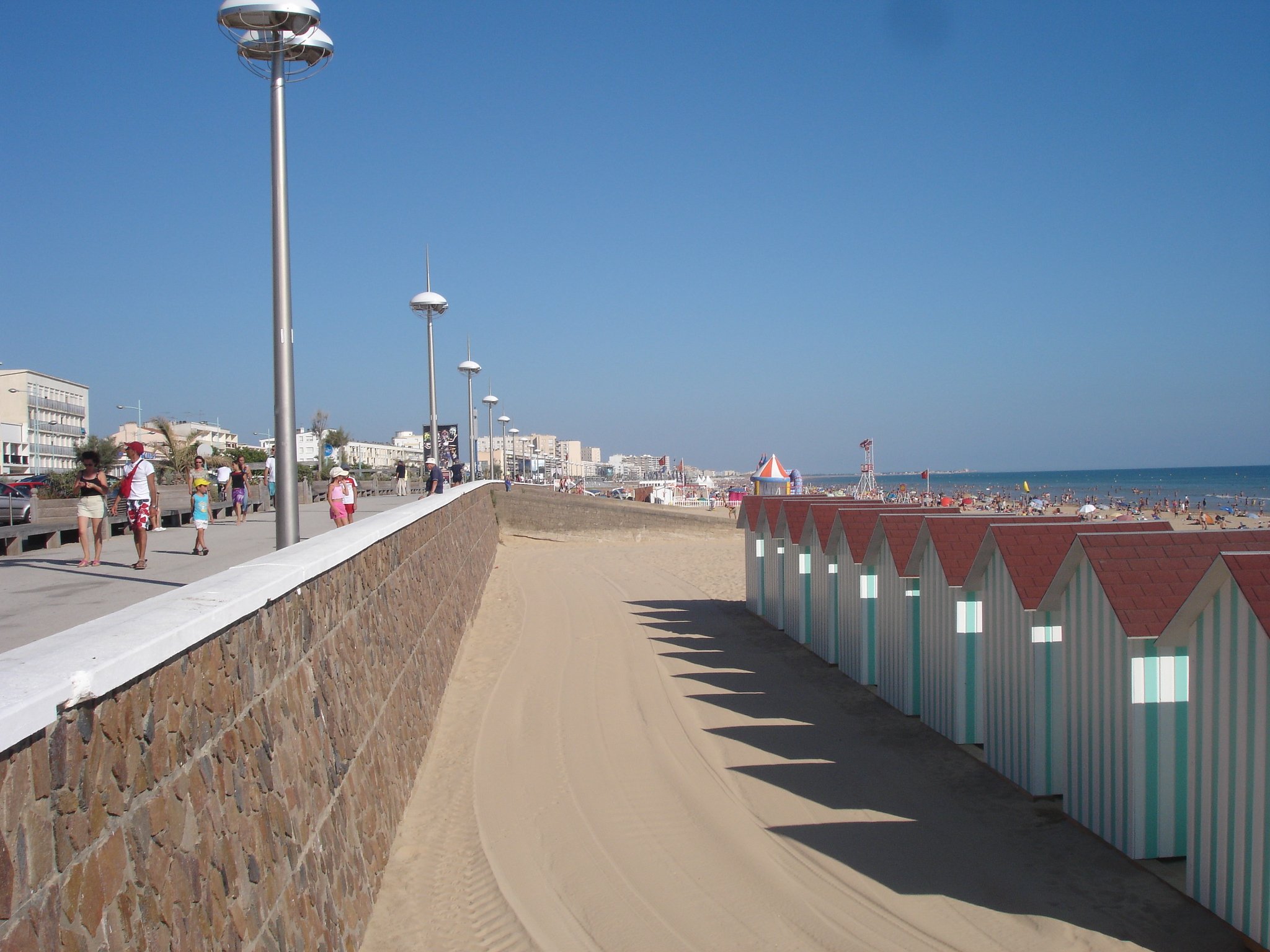 Seaside resort of Saint-Jean-de-Monts
Les bourrines, typical swampy houses with local furniture testify of the daily life of the inhabitants of the area. Discover all the salt harvest process by visiting Marais Salants de la Vie in Saint Hilaire de Riez : La Saline du recoin et le Marais Salant de l'Etoile.
Animations
Another visit near the campsite : Saint-Gilles-Croix-de-Vie. Ranked seaside resort since 1982, appeals tourists for its charming location and its typical aspects. First fishing port in Atlantic for its sardines, it has been established in 1991 Sardine Brotherhood. Visit this city to enjoy Sardine party (end of July). Each year, la Bénéteau Cup attracts many sealovers.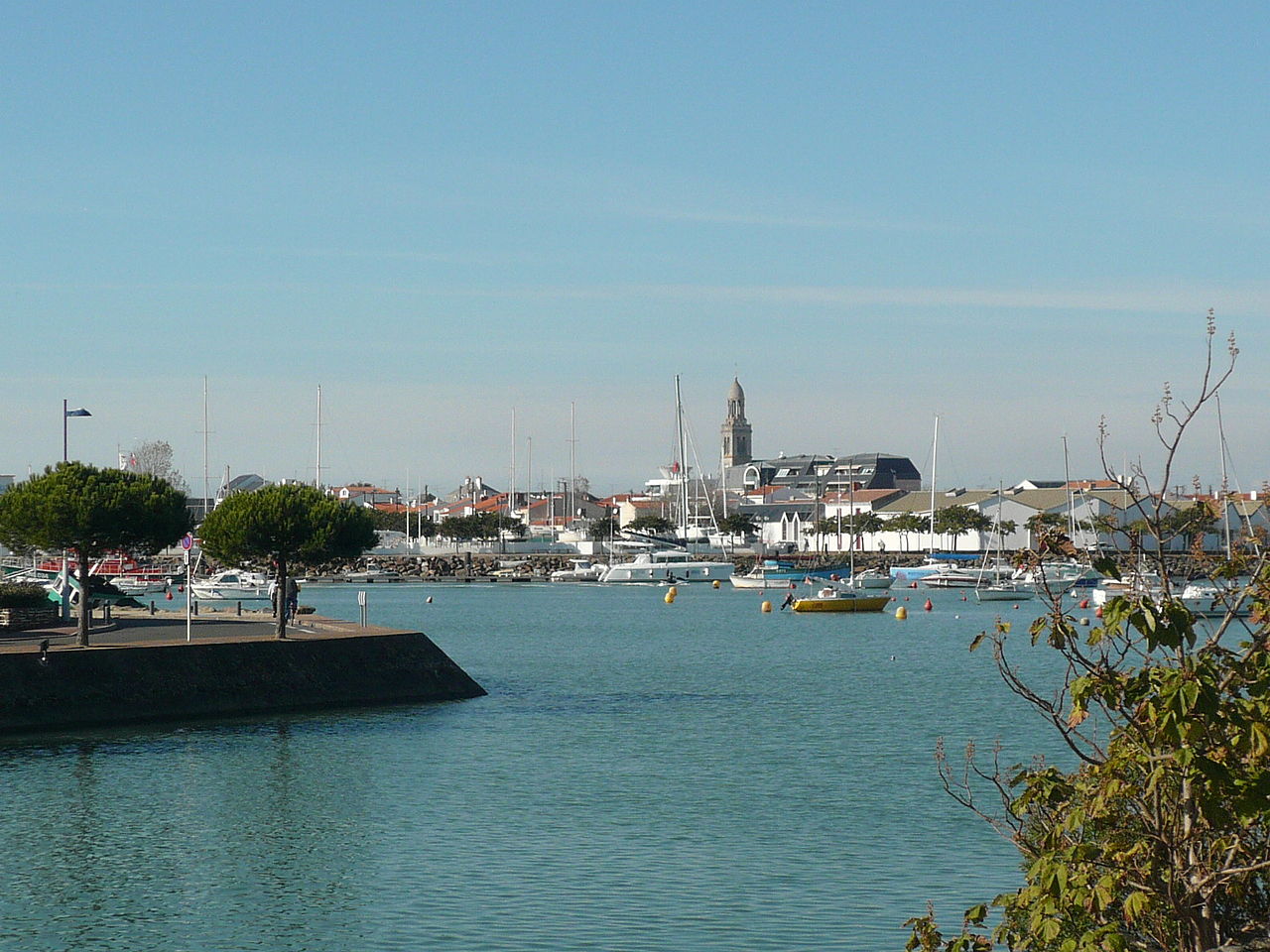 The yacht harbour Saint-Gilles-Croix-de-Vie
On the gastronomy side, savor the local specialities of Vendée. Among them, Bouin oysters, Beauvoir or Noirmoutier, scampis, schrimps, whelks, crabs, mussels…daily fished. You can also taste more than the 'Label Rouge' sardine, the bar or sole. Dont escape without tasting swamps specialties. Frogs' legs or roasted eels are one of the most popular courses.
From Saint-Jean-de-Monts, escape to one of the island of the area : l'ïle d'Yeu, Noirmoutier, l'Epine…Don't forget to have a look at le Puy du Fou ( 3 kms from the campsite). This huge park attracts more than 800 000 visitors from april to september. It's famous in the entire world. It's more than a par kits a 'go back in time' park. You can choose your show, your age, your architecture, your gastronomy and ambiance.