Balneotherapy and spa in Fréjus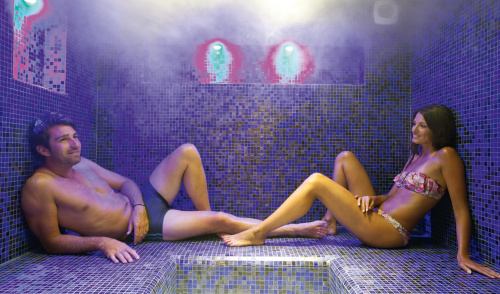 Le Domaine du Colombier ***** has a heavenly balneotherapy area: a heated artificial lake of 600 m2, with a streamlined design and crystalline colours.
3 areas dedicated to well-being and gentle water exercise
The first well-being area lies beneath an immense straw canopy that covers the pool, with 8 hydro jet workshops (lower back, geysers for the feet, neck, massages, anatomical banquette seats, waterfall, spa …). The next one consists of 3 swimming corridors. The last area is made up of a series of dynamic workshops, for an energising fitness programme: aqua bikes, aqua elliptical machines and aqua trekking.
There are coaches to help you with many different activities, so you can take full advantage of these superb facilities. You can also opt to simply relax in 2 Jacuzzis heated to 32°, or laze around on a submerged beach with a temperature of 27°. Sports fans can avail themselves of a new cardio fitness area, in the shade of a straw canopy.

Treatments and relaxation at the spa
The beauticians welcome you in an atmosphere dedicated to relaxation. Each cabin is an invitation on a journey to foreign lands: the Orient (duo treatment cabin), Asia, the Future… A wide range of treatments is on offer, for your relaxation and well-being: facial and body treatments, massages, body sculpting, manicure, pedicure and depilation.
The fragrances and ancient rituals will leave you with soft skin and a relaxed body.
The Turkish bath is gorgeous, decorated with mosaics by Bisazza. It's a real gem, offering chromotherapy and aromatherapy treatments, and can be privately hired since it has room for just 4 people.
New for 2013: the spa at Le Colombier has a hydro-active massage table, so you can appreciate its draining and relaxing functions combined with the benefits of ions, collagen, aromatherapy and chromotherapy.