Arinella Bianca
20240 Ghisonaccia / Corsica
In the heart of the Costa Serena
Go to the website of the campsite
Reservation
Presentation
Discover the Region
Practical information
5* Arinella Bianca campsite: get back to nature and explore Corsica in a luxury holiday setting.
Stress-free rentals
Located between the sea and the mountains of the luggage on camping pitches in a wooded park. There are service areas for camper vans. Bungalows and mobile homes with a unique style offer you comfort, equipment and air conditioning during your holidays in Corsica.
Action-packed holidays
Divided into several pools, the swimming pool with slides is located on the Corsican shoreline. The large beaches surrounding the aquatic area allow you to relax in the shade of the parasols. The Spa 7e Sens offers treatments and sessions of jacuzzi, hammam, massage and beauty treatments.
Children will love the entertainment provided by the mini-club and the teen club during their holidays in Corsica. Painting, make-up and construction activities are on the programme. Not forgetting the weekly show and the practice of numerous sports.
Fitness and aquagym sessions are organised alongside the tournaments offered by the campsite. The ranch near the campsite organises horse riding. At the sailing club, you can try your hand at windsurfing, catamaran or jet skiing.
A taste of Corsica
Nighttime means showtime. Dances, concerts, sketches and cabarets are held after dining on Corsican specialities and Costa Serena wines at the restaurant.
Set off from one of France's most beautiful campsites on hikes through the Fium'orbu Valley or Col de Perelli. Enjoy the breathtaking scenery of Monte Renoso and Christe Eleison after swimming at the listed Pinia estate's beaches. End your stay in Corsica with a trip to Bonifacio and Porto Vecchio.
We appreciate
Direct access to the white sand beach
The environment
Entertainment
Rentals
Between mountains and sea, Bastia and Bonifacio, Arinella Bianca campsite is located at Ghisonaccia on Costa Serena, strategic crossroad to discover Corsica.
White sandy beaches, smelly pines, Costa Serena's littoral is the best way to escape from daily life. Chiola beach offers a great view to the mountains and Bavella's needles. Mare e Stagnu beach located in Aléria leads to pond's mouth. You can reach La tour de Diana (genoese tower) by Aleria's marina.
Have a look at the Bughja's waterfall in San Gavinu di Fiumorbu (12 kms from the campsite).With its 70 mèters high, this waterfall can be seen from the road which leads tot he village. Catastaghju's shelter in San Giavinu di Fiumorbu is the ideal departure point for hinking : Macini's waterfall, Bianca's sheepfold… Marmanu's forest is another touristic point. It has a huge vartiety of landscapes and vegetals such as Lariccios pines, beechs, fir trees pectins and birchs.
Corsica adventure
2 two hours north from the Arinella Bianca, you can find Bastia. Baroque, cultural, gastronomic, many words to celebrate this city. Saint Nicolas Place is the Bastiais' meeting point such as the animated and colorfull market place. Have a walk on the old harbor, and have a look at the shops to buy the famous Cap Corse aperitive.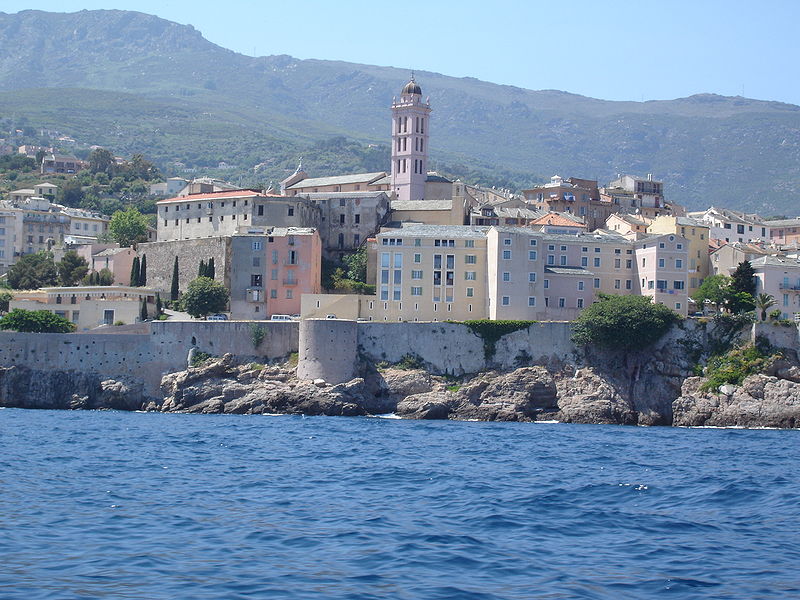 The citadel of Bastia
Many splendid churchs to visit such as Saint-jean Baptiste (the biggest in Corsica) but also Saint Roch, Sainte – Marie….
Don't miss creeks with the amazing beach of Mariana which follows Biguglia's pond's bird sanctuary.
De Bastia, longez la côte ouest et visitez l'Ile Rousse, Calvi, Porto, Ajaccio…connues pour leurs belles stations balnéaires et leurs histoires romaines.
Bonifacio is an other stop. Two hours drive from the campsite (south). It millenium fortress, its several historic monuments, beautiful cliffs….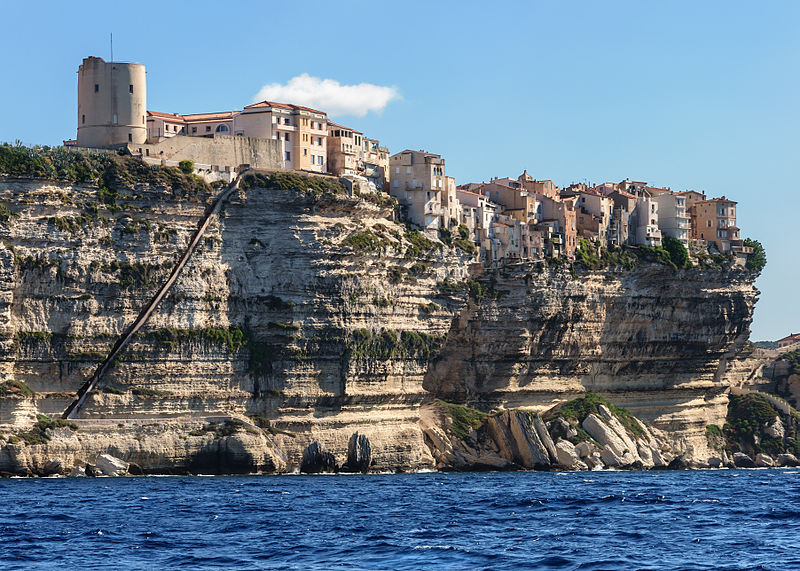 Cliff of Bonifacio